32,400,000
33.3% of the Population is 24 years old or younger
Land Area
309,496 sq. mi (almost 2x the size of California)
Capital
Maputo
Religions
Roman Catholic 28.4%
None Religous 18.7%
Muslim 17.9%
Zionist Christian 15.5%
Pentecostal 10.9%
Other 6.7% (29 Mormon Congregations, 24 Lutheran Congregations)
Anglican 1.3%
Unspecified 0.7%
American Independent Baptist Missionaries in the country.
American Independent Baptist Missionaries on Deputation.
There are also Foreign Independent Baptist Missionaries in the country from Brazil and The Philippines.
Languages
Official
Portuguese is the official and most widely spoken language of the nation, spoken by 50.3% of the population.
10.7% Mozambicans speak Portuguese as their first language.
4 Portuguese Creoles
Portuguese Pidgins
Mozambican Sign Language
38 Tribal languages are spoken throughout the country.
Barwe
Chewa
Chopi
Chuwabu
Dema
Kimwani
Kokola
Koti
Kunda
Lomwe
Maindo
Makhuwa
Makonde
Makwe
Manyawa
Manyika
Marenje
Nathembo
Ndau
Ngoni
Nsenga
Nyanja
Nyungwe
Phimbi
Ronga
Sena
Shangaan (Tsonga)
Shimakonde
Shona
Swahili
Swazi
Takwane
Tawara
Tewe
Tonga
Tswa
Yao
Zulu
Other Foreign Languages
Government Type
Presidential Republic (Controversial)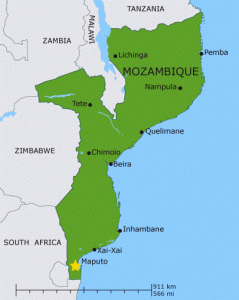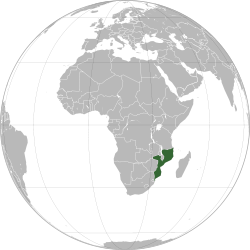 Flag
Green represents the riches of the land
White peace
Black the African continent
Yellow the country's minerals
Red the struggle for independence
The rifle is symbolic of defence and vigilance
The hoe refers to the country's agriculture
The open book stresses the importance of education
The star represents Marxism and internationalism
Coat of Arms
the corn stalk and the sugar cane represent agricultural wealth
the cog wheel represents labour and industry
the book represents education
the hoe for "peasantry and agriculture production"
the AK-47 for "defense and vigilance"
the red star represents socialism, but is quoted in the Mozambican constitution to "symbolize the spirit of international solidarity of the Mozambican people".
the red sun symbolizes the building of a new life
National Anthem
"Pátria Amada"
English: Beloved Homeland
In the memory of Africa and the World. Beautiful fatherland of those that dared to fight Mozambique, your name is freedom. The Sun of June forever will shine.
Chorus: (2x)
Mozambique, our Glorious Land
Rock by rock constructing the new day
Millions of arms in one only force
O Loved fatherland we will be successful
United people from Rovuma to Maputo. It harvests the fruits of the combat for the Peace. The dream grows waving in the flag And goes cultivating in the certainty of tomorrow.
Chorus (2x)
Flowers sprouting of the soil of your sweat. For mounts, the rivers, the sea. We swear for you, O Mozambique. No tyrant will enslave us
Chorus (2x)